Annual D&D 2019, Sat, 3 Aug 2019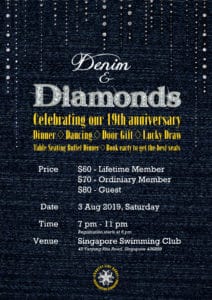 Howdy Folks,
Have you gotten your tickets to our Annual D&D this year yet? There aren't many more seats available, so be quick if you are still on the fence.
Please take note that we are holding it at Singapore Swimming Club this year instead of the usual venue of the past few years. And the theme is Denim & Diamonds.
You can grab the flyer here to check out the details. Then get the tickets to join us for the fun!