Line Dance Jam @ Esplanade, Sat, 16 Mar 2019 (FOC)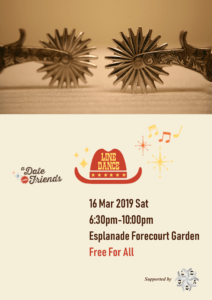 Howdy Folks,
Another year has passed.
It is time to come join the fun at The Esplanade Forecourt Garden for another free-for-all line dance jam.
The jam is part of the annual A Date With Friends event. You can practically spend the whole weekend exploring the various activities and finish it off with your favourite one.
We are honoured The Esplanade has asked us to help out for the 4th year in a row.
We are also grateful to the line dance community who showed up in droves to dance. And we shall meet once more, right? 🙂
So, mark the date 16 March 2019, Saturday, 6:30 pm – 10:00 pm in your calendar and we will see you soon!