20th Anniversary Celebrations: Concert, Workshop, and Dinner & Dance, 15 & 16 August 2020
Howdy Folks,
Would you believe CLDAS is going to be 20 years old come the year 2020? Yeah, that is like only 14 more months to go.
In order to celebrate the joyous occasion, we are lining up a series of event starting from a night of country music concert, then following by a line dance workshop the next morning, and ending with a grand evening of dinner and dance.
We are telling you early so you could mark the events down in your calendar and join us in the happy celebration!
A Taste of Country
We will start the ball rolling on Saturday evening, 15 August 2020 with a blast of country music. The ever popular local country and western band, Matthew and The Mandarins, recording artist Baby Astheria from Indonesia, one of Thailand's pioneer ETAs Jaruk Viriyakit, and our very own ETA Eddie Foo will keep you entertained with hours of good old country music.
And did I mention the MC of the night is Brian Richmond?
For the line dancers out there, we have planned a dance area right in front of the stage so you can dance the night away!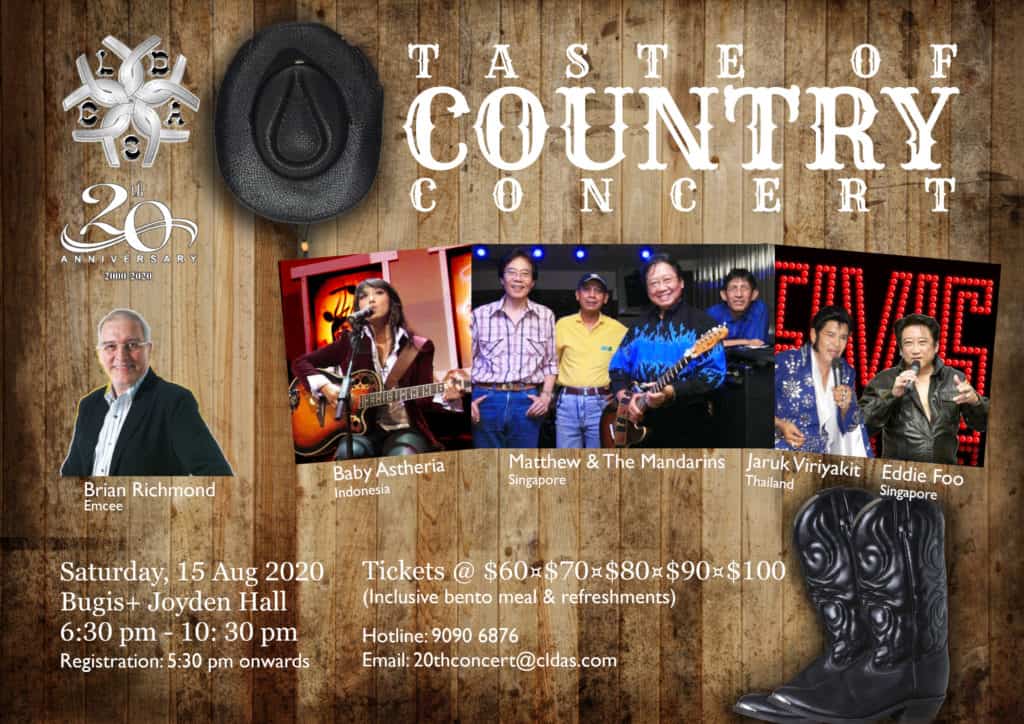 The floor plan of the concert seats available for booking is below: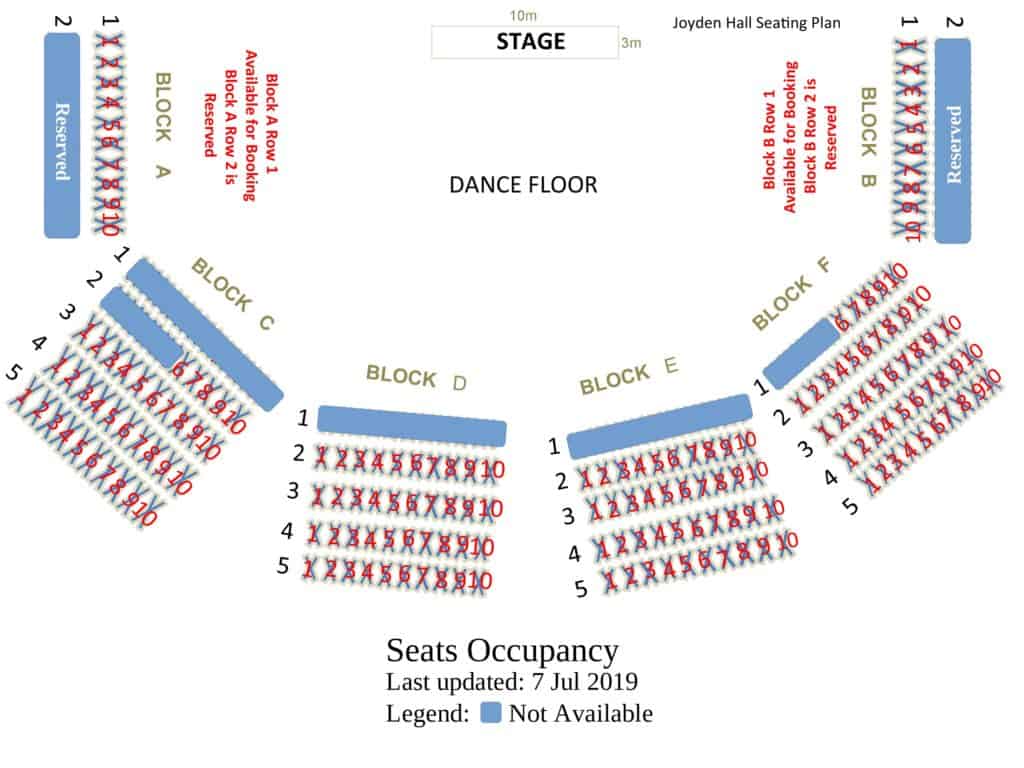 Ticket prices for both CLDAS members and guests:
Block A – F, all Rows 1, Seats 1 – 10: S$100
Block A – F, all Rows 2, Seats 1 – 10: S$90
Block A – F, all Rows 3, Seats 1 – 10: S$80
Block A – F, all Rows 4, Seats 1 – 10: S$70
Block A – F, all Rows 5, Seats 1 – 10: S$60
Dance with Alison & Ira
Learn the latest line dances from Crystal Boot Awards winner Alison Johnstone and Ira Weisburd in a workshop on Sunday morning, 16 August 2020.
We have asked Alison to choreograph the CLDAS 20th anniversary theme dance to the song A Night to Remember by Joe Diffie. So she will reveal it for the first time in the workshop. Be the first to learn it, then dance it in the evening Dinner & Dance.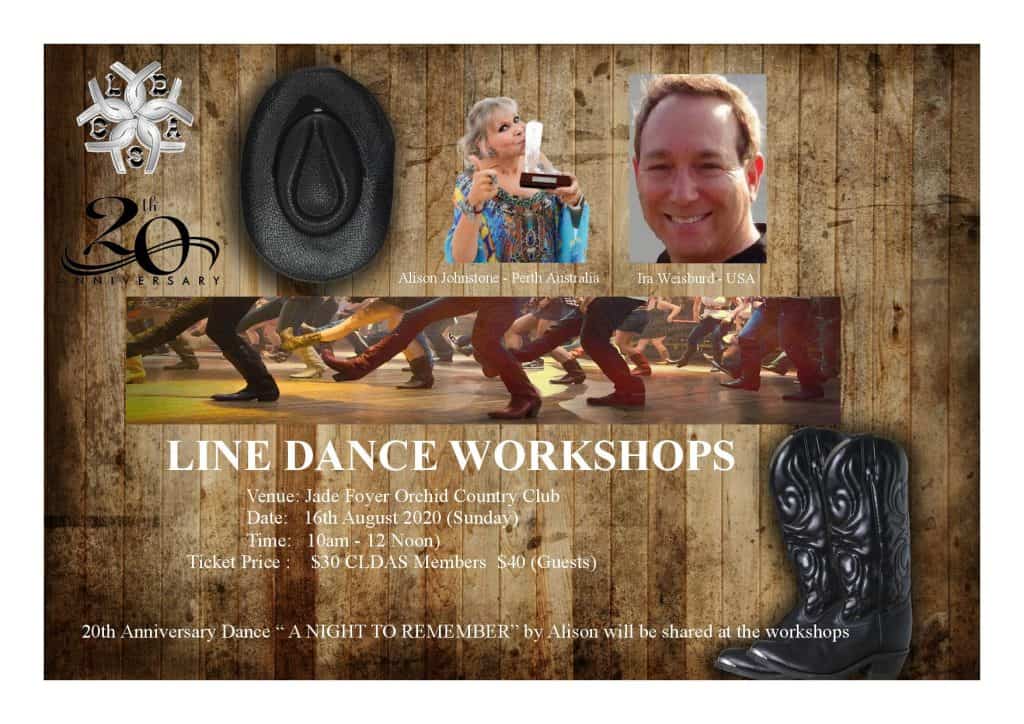 Ticket prices:
CLDAS Members – S$30
Guests – S$40
A Night to Remember
Our 20th Anniversary Dinner & Dance is known as A Night to Remember because we truly want to make it a night for you to remember at our 20 years milestone.
You could dress to kill for the night. Or opt for the classic cowboy gear. Anything which pleases you to help fill yourself with treasured memories of the evening.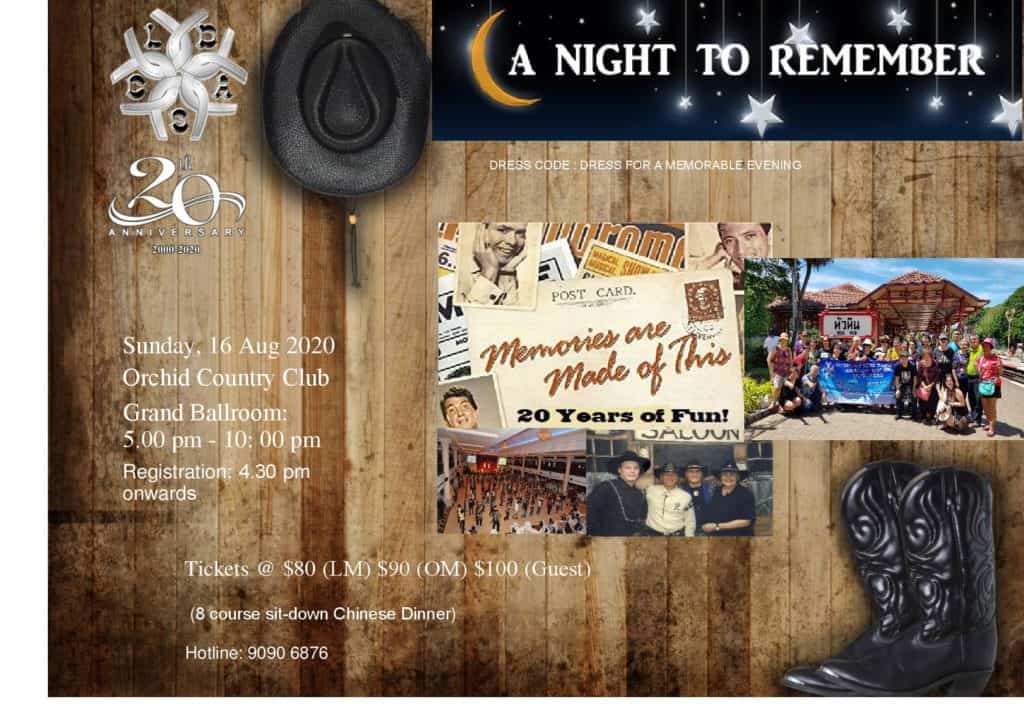 Ticket prices:
Lifetime Members – S$80
Ordinary Members – S$90
Guests – S$100
Value Combo
You get the best value when you purchase all 3 events together: concert, workshop and D&D.
Combo discount:
Lifetime Member – S$20 off from the total price of concert, workshop and D&D tickets.
Ordinary Member – S$15 off from the total price of concert, workshop and D&D tickets.
Guest – S$10 off from each of the price of concert, workshop and D&D tickets, giving you a total S$30 discount.
We understand you may be unable to attend all 3 events. No worries. You can always get the tickets to the ones you are interested only. But of course then the combo discount won't apply.
We are open for bookings for all 3 events now. Feel free to approach any of our committee members for your reservations.