Sold Out! Thailand & Vietnam Cruise 20-27 Feb 2012 Early Bird Special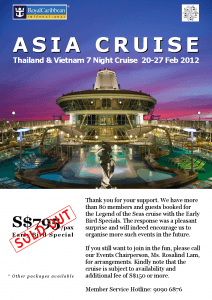 Howdy Folks,
We have a pleasant surprise with our Thailand & Vietnam 7 Night Cruise from 20-27 Feb 2012. The S$795/pax early bird special is totally sold out! Wow, that's like 7 months ahead of the trip with Royal Caribbean. It will indeed encourage Ms. Rosalind Lam, our Event Chairperson, to organise more of such activities in the future.
Thank you for your support.
We currently have more than 80 members and guests who will be on board the Legend of the Seas with us. If you still want to join in the fun, please call Rosalind to make arrangements.
Do kindly note that the cruise is subject to availability and the additional fee may come up to S$150 or more. You get better rooms with the extra fees though. Also, trust us when we say it will probably still be cheaper than booking the trip yourself. Plus, we have lined up our own activities besides what the cruise offers to everyone.
So, what are you waiting for? Call our member service hotline at 9090 6876 now.