OUR 23rd "Vegas" ANNIVERSARY DINNER AND DANCE
IT GONNA TO BE ANOTHER EXCITING NIGHT WITH US !!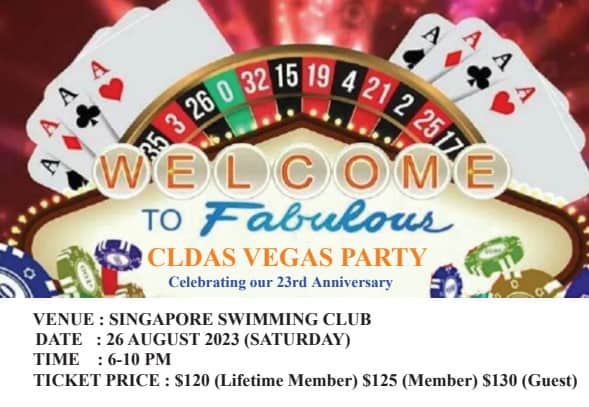 Dear Members and Friends,
We are pleased to announce that our annual D&D is open for reservations. Details as follows:
Date: 26 August 2023 (Saturday)
Venue: Singapore Swimming Club
Theme: Vegas
Earlybird Price until 30 April 2023:
Lifetime Member: $120/pax
Member: $125/pax
Guest: $130/pax
You save 10% off the standard pricing when you make reservations and payments on and before 30 April 2023.
Please send your reservations by WhatsApp to CLDAS hotline at 90906876 stating your name, Membership numbers and expiry date. Table reservations of 10pax is welcome.
You will be notified to make payment once your reservations is confirmed.
Payment via PayNow UEN number T00SS0167A or bank transfer to CLDAS OCBC account number: 501-513188-001.
Cheers !