Johor Day Trip, Saturday, 16 Jul 2022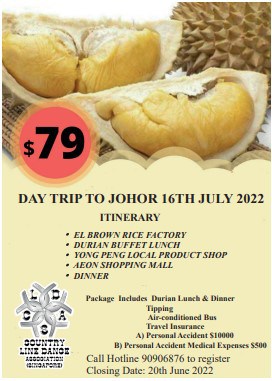 Howdy Folks,
Since our last trip 2 years ago, we are finally organizing another trip as the borders are starting to open up again!
This will be a Day Trip to Johor on Saturday, 16 July 2022. The itinerary includes:
EL Brown Rice Factory
Durian buffet lunch
Yong Peng local product shop
Aeon Shopping Mall
Dinner

The package price of $79/pax, for both member and guest, also includes travel insurance coverage.
Please take note that, based on the latest regulations of Malaysia, there is no need for you to register with My Sejahtera to declare your Covid vaccination status. However, kindly do bring along a copy of your Notarized Vaccination Certificate in case of check.
Please also take note that there are 2 pick-up and drop-off points:
Eunos MRT for pick-up at 6:00 am, and
Lakeside MRT for pick-up at 6:30 am.

If we could form a group totally 38 pax, we would qualify as Private Charter and shall have the whole air-conditioned bus exclusive to CLDAS. Failing which, we will join with other passengers from the same travel agent.
Interested? Call or WhatsApp our hotline at 90906876 to make your bookings!
Registration will close at 12 noon on Monday, 20 June 2022 OR if all 38 seats are taken, whichever comes first.
What are you waiting for? Pick up your phone to call or WhatsApp our hotline at 90906876 now!