Welcome 2017 Countdown Party
Folks,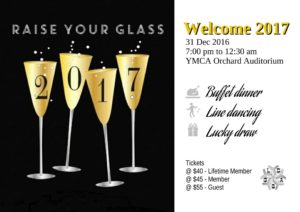 After a successful countdown party last year, we are holding another year-end celebration to welcome the new year again this coming December.
We are going to have a bash with buffet dinner, line dancing, and lucky draw at No. 1 Orchard Road.
Download the Welcome 2017 Countdown Party flyer for more details.
Tickets are going at:
$40 – Lifetime Member
$45 – Member
$55 – Guest
and are limited. Get your ticket now to avoid disappointment.