Annual D&D 2017 – Saturday, 12 Aug 2017 at The Joyden Hall @ Bugis+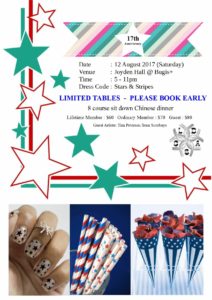 Howdy Folks,
How time flies. Would you believe our Annual D&D 2017 is coming soon again in a few months?
It's our 17th anniversary and we're going for the Stars & Stripes theme this time around.
Costs have gone up. Still, we're keeping the ticket prices the same as last year at this juncture:
Lifetime Member: S$60
Ordinary Member: S$70
Guest: S$80

But we can't promise the prices will stay put after — maybe even sooner — April 2017.
So, book your tickets now. Call or meet us at our regular jam venues at Paya Lebar Square, Zhongshan Park, Eurasian Community House, or Kallang Theatre to book your tickets.
Check out the D&D 2017 PDF flyer for more details.