Hua Hin & Bangkok 4D3N 26-29 May 2018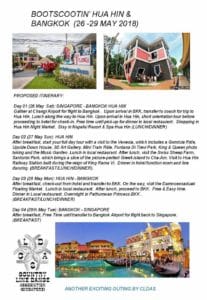 Update: 23 Nov 2017
Fully Booked!
Folks, thank you for your support.
In view of limited flight seats, we won't be taking on any more booking. If you still want to try your luck, we could always put you on our waiting list.
---
Howdy Folks,
I bet, like us, you have heard a lot about how beautiful Hua Hin is and you should go visit or you would regret it. So we have finally decided to organise a trip to Hua Hin next year from 26-29 May 2018.
Highlights of the trip include:
2 nights stay @ Hua Hin
1 night stay @ Bangkok
Visit places of interest in Hua Hin including Night Market, Upside Down House, Mini Train Ride, Fonttena Di Trevi Park and more
Line dancing in hotel function room with dinner
1 day Free & Easy in Bangkok
Download the itinerary for more details.
The total package price of the 4D3N trip inclusive of 3 breakfasts / lunches / dinners each on a twin sharing basis is:
CLDAS member: S$733/pax
Guest: S$770/pax
Note: Above prices are indicative & subject to change.
So, what are you waiting for? Come join us in another exciting trip!