Celebration With Dance 17 Oct 2015
~~~ Free Event : Admission by Ticket only ~~~
As part of the Got To Move 2015, a project by the National Arts Council to celebrate the diversity of dance in Singapore, CLDAS will be holding a free line dance workshop cum jam on 17 Oct 2015, Saturday, 5:30 pm-9:30 pm at the Marine Parade Community Club.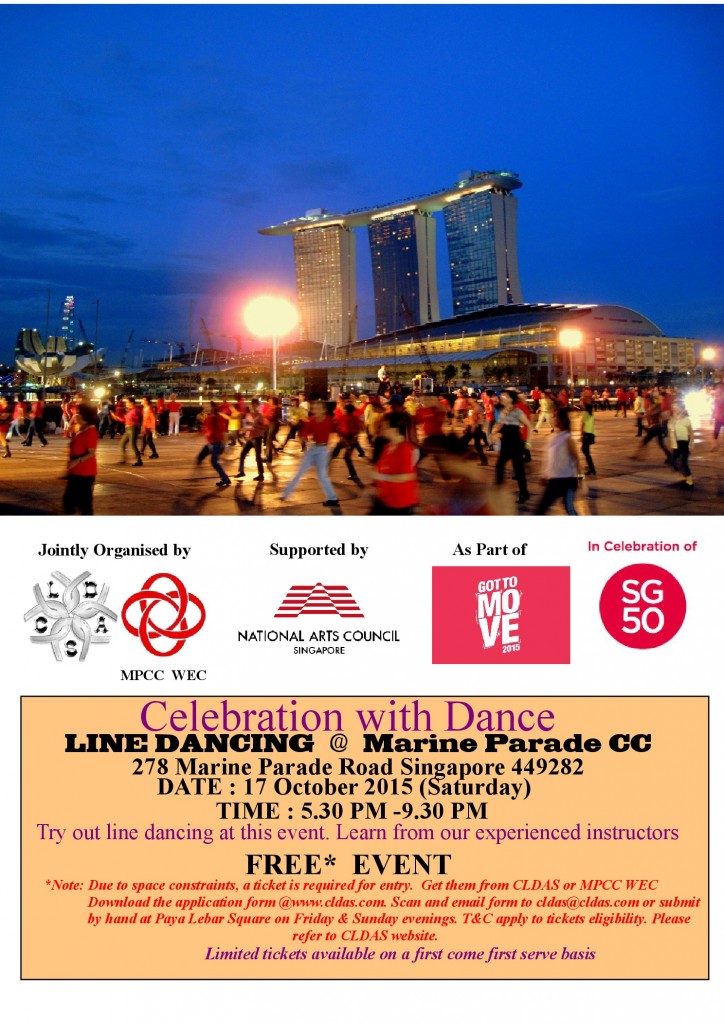 The purpose of the workshop is to introduce line dancing to all Singapore residents who are interested to participate in this form of art. It is targeted at participants who have no line dance background or have just picked up the hobby. The participants will be exposed to the basics of line dancing followed by a jam featuring easy dances for beginners.
Light finger food will be provided to all participants.
The Celebration With Dance workshop cum jam is free. However, as the multiple purpose hall can only hold a maximum of 150 participants, registration is required. Tickets will only be issued to successful applicants on a first-come-first-serve basis.
Click here to download the Registration Form.
Completed form can be emailed to us at cldas@cldas.com or handed personally to us on Fridays and Sundays at Paya Lebar Square where we hold our weekly line dancing activities.
* Terms & Conditions

Free event requiring registration due to space constraint
Registration must be made on official Registration Form available from CLDAS and MPCC
Submission of completed Registration Form is no guarantee of ticket allotment
Tickets are only issued to successful applicants on a first-come-first-serve basis
Admission is by ticket only