Annual D&D 2016 – Saturday, 27 Aug 2016 at The Joyden Hall @ Bugis+
22 Aug 2016 Update:

Registration now starts at 4:00 pm and we will have an early-bird dance session from 4:30 pm – 5:30 pm.

Check out the updated dance list of the early-bird dances.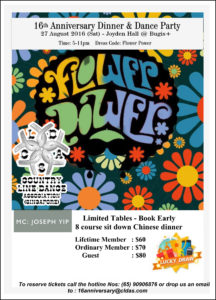 Folks,
As usual, our Annual D&D 2016 falls in the month of August.
So, you're not only celebrating our association's anniversary, but also rejoicing in our nation's birthday.
This year, the theme is Flower Power. We hope peace and love prevail wherever you dance.
Tickets are available now. You can call us or meet us at our regular jam venues like Paya Lebar Square and Zhongshan Park to book your tickets.
Grab the D&D 2016 PDF flyer to find out more details.